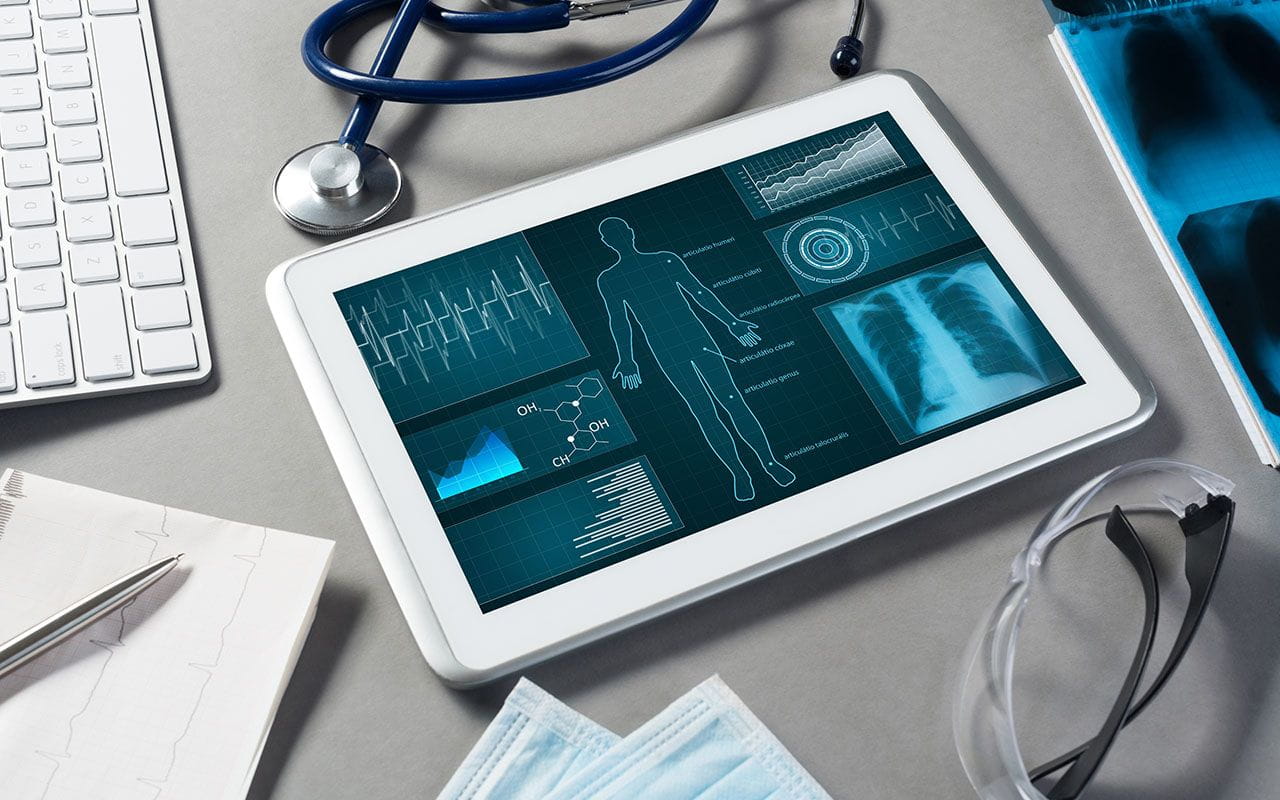 Japan's Toppan Forms Uses Keychain Core to Secure Healthcare Data over IoT and Cloud
August 24 2020
Tokyo
Toppan Forms, a global technology and printing company based in Japan, has successfully leveraged Keychain's Core blockchain solution accelerator to secure healthcare data over IoT and cloud environments. The project marks a milestone in applying blockchain to real enterprise use cases that benefit personal privacy.
TOPPAN FORMS CO.,LTD. (Locate: Minato-ku, Tokyo, President: Koichi Sakata, hereunder "Toppan Forms") and a leading blockchain company, Keychain GK (Locate: Minato-ku, Tokyo, CEO: Hope Jonathan, hereunder "Keychain") have confirmed the effectiveness of the experiment Proof of Concept (PoC) by using blockchain for device authentication and sharing medical data.
Overview
Toppan Forms and Keychain signed a strategic partnership agreement on Wednesday, April 1, 2020 to promote the use of blockchain on IoT field.
As the first joint step, Toppan Forms used Keychain's Core solution accelerator product to deploy an application that shares data between IoT devices and the cloud. Toppan Forms collaborated with its Osaka Sakurai Factory on a PoC to share medical health vital signs related to emotional stress from wearable device, through IoT gateway, and to cloud system. Keychain's unique data security capabilities enabled Toppan Forms to achieve new levels of security in healthcare applications.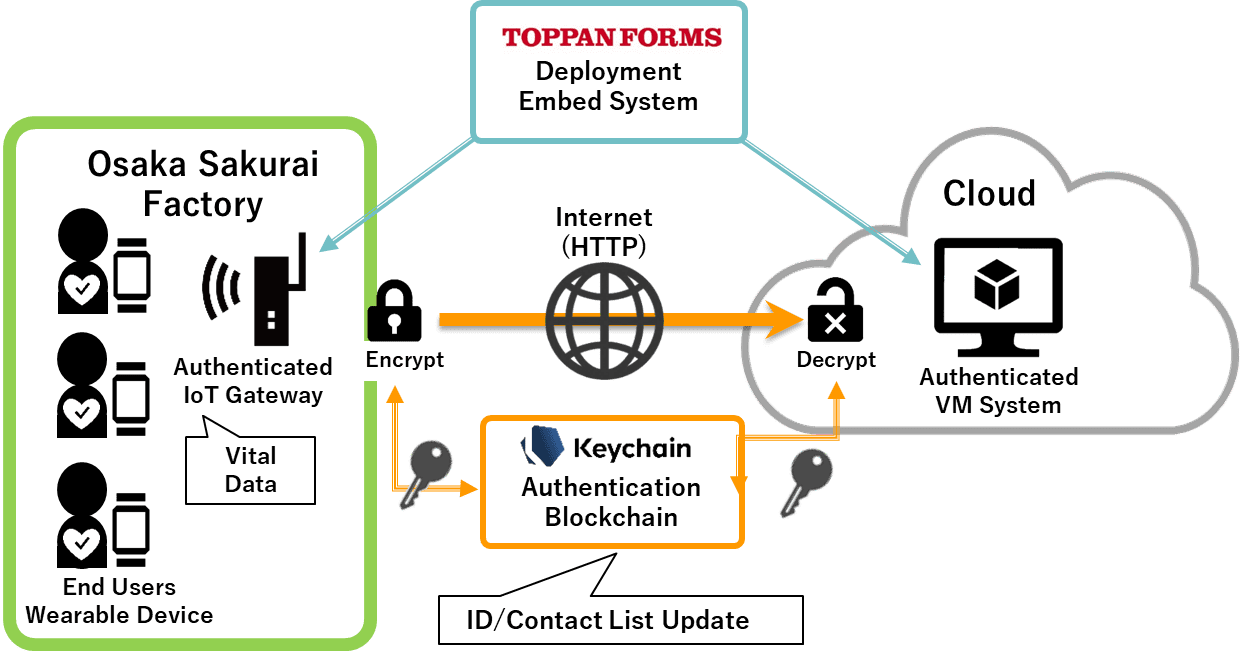 By using blockchain as authentication management, while encrypting data on existing system, this hybrid blockchain approach enabled high-speed and light weight software based authentication platform and system. We confirmed that the platform system achieved edge device level security.
Confirmed Effectiveness
1. Data is not recorded on the blockchain and only use for device P2P authentication, and achieved high-speed and lightweight applications on devices. Application can be embed on low-spec devices such as IoT gateways.
2. Data is encrypted and not on blockchain. It enable secure data communication without disclosing transaction record on the blockchain nor third parties.
3. Since data is not managed by blockchain, it ensure data security without skyrocketing computational costs as IoT devices and transaction increase on blockchain in general.
Background
Cyber attacks using IoT are on the rise while increasing the spread of IoT products and services, thus the importance of security measures is increasing. At present, most of the security measures taken by companies and organization is for high level such as cloud service and problem is lack of IoT and edge devices security measures.
Existing systems for IoT devices tends to require proportional computation cost increase as number of device increase proportionally. Thus there is need for application that is light weight, can be integrated into low-spec devices and high speed with less computation cost.
Future development
In the future, we will develop further such as enhancement of IoT security capability, additional value to wearable devices and will contribute to solve challenges in our society.
*1 For more information on the demonstration experiment of " Human emotion and stress analysis service", .
URL:https://www.toppan-f.co.jp/news/2019/0829.html
※ "Keychain Core" is a trademark of Keychain.
Contact information for this news release
Toppan Forms Co., Ltd. General Affairs Headquarters Public Relations Department TEL:03-6253-5730
Keychain GK Email: engage@keychain.io
About Toppan Forms
Company name: Toppan Forms Co., Ltd.
Headquarters: 1-7-3 Higashi-Shinbashi, Minato-ku, Tokyo
Established:1955 May
Representative: Koichi Sakata, President and CEO
Business Description:
Toppan Forms supports corporate activities by demonstrating its strengths in the "information field" centered on "information" and contributing to operational efficiency. By leveraging the strengths we have cultivated in the information field, we are working to create new value as a "digital hybrid company" that can provide products and services from both analog and digital.
Website: https://www.toppan-f.co.jp/
※ "Digital Hybrid" is a registered trademark of Toppan Forms Co., Ltd.
About Keychain
Company Name: Keychain
Headquarters: Minami-Aoyama, Minato-ku, Tokyo 1-2-6 Lattice Aoyama
Established: 2016 September
Representative: Jonathan Hope, CEO
Business: Keychain is a leading technology provider that is building managed trust for the digital world. As a leading blockchain technology provider, Keychain aims to fortify operational integrity, reduce risks/cost, streamline business processes, and enable new patterns of business in finance, industry, and enterprise. Keychain's technology has been recognized with prestigious awards including the Global Fintech Award from the Association of Banks in Singapore and the IoT Lab Special Jury Award from Japan's Ministry of Economy Trade, and Industry.
Website: https://www.keychain.io/
About "Keychain Core"
Keychain is building a new global data security infrastructure targeting the financial, industrial, and enterprise spaces. Keychain Core™, Keychain's main product, is a solution accelerator that enables Keychain's partners to build applications with self-sovereign identity, data-centric security, secure workflows, contracts, and settlement and custom digital assets. Keychain Core™ supports a wide range of devices including personal computers, tablets, smart phones, smart watches, and Internet of Things (IoT) devices.
Keychain Core Capabilities
Self-sovereign identity: enables users to create digital identities in a self-sovereign way.
Data-centric security: secures any data on any device anywhere in the world with requiring trusted third parties, regardless of the security of the storage and network environments.
Secure workflows: secures business workflows, such as payment settlement, with full auditability while maintaining confidentiality.
Secure contracts: enables globally compatible digital contract signing and processing.
Integrity of the data on payment infrastructure: Fortify integrity of the data by providing device authentication measures and data protection technology.
Digital assets: enables regulated organizations to issue custom digital assets. For example: central bank and municipal digital money, energy credits, and gaming assets.